TELEPHONE SCRIPT TO USE
WITH PROSPECTIVE RESIDENTS
(c) mrlandlord.com 1999 - All rights reserved.
The following questions help prequalify, create possibilities for additional rental income and increase the likelihood that the prospects will show up for the appointment.

LANDLORD: Hello my name is (your name) ______________________________
I'm one of the rental managers of (your company name) _____________________.
How may I help you?
PROSPECT: (Normally the first or main question they want to ask is how much is the rent, but whatever they ask, respond with the following).
LANDLORD: I'll be happy to help you. To whom am I speaking please?
PROSPECT:
LANDLORD: Hi (prospect's name)________________________,
How did you find out about our rental home or apartment?
PROSPECT:
LANDLORD: How soon, or what time range do you have before will you need to move into the next home that meets your needs?
PROSPECT:
LANDLORD? What size or how many bedrooms will you need?
PROSPECT:
LANDLORD: How many people will be living in the rental?
PROSPECT:
LANDLORD: Anyone else?
PROSPECT:
LANDLORD: And is there a chance that any of you will have other relatives or friends who may move in and join you during the year?
PROSPECT:
LANDLORD: How many pets will be in the rental with you or in the yard?
PROSPECT:
LANDLORD: Any birds, reptiles, fish, or animals of any kind other than a dog or cat?
PROSPECT:
LANDLORD: About how much (what type of price range) are you looking to spend on your next rental that meets your needs?
PROSPECT:
LANDLORD: About how much (what type of price range) are you
looking to spend on your next rental that meets your needs?
About how much (what type of price range) are you looking to spend on your next rental that meets your needs?
Note: by asking the prospect to give you a price, his or her price may be more than what you had in mind as market rent).
PROSPECT:
LANDLORD: Is there any thing in particular you definitely would want included in your rental home package?
LANDLORD: Okay, Mr or Mrs __________________________,
I do have a rental home package I think you will like. Its in your price range, size range and time range. The next rental showing I have available is _____________________.
Will that time be okay for you? If not the next showing will not be until___________________________, but I can not promise the rental will still be available at that time. (Try to gives the same and exact time to all prospects inquiring that day or recently, because you want have about 3 or 4 prospects seeing the rental at the same time whenever possible, which means it is okay to set about 6 to 8 appointments at the same time in case everyone does not show up).
LANDLORD: Let me get your work number just in case something comes up. I would not want to stand you up if an emergency prevented me from being there and I ask that you please give me the same courtesy. Your work number is? And what place of employment is that?
(This reduces the chances of being stood up, plus it is a polite way to find out if the prospect is employed).
PROSPECT:
LANDLORD: Please be aware that we run a credit report* on all applicants. To maybe save you the cost of the application/credit check fee we request at the appointment, is there any information in your credit or rental history
that may hurt your chances in renting from us that you would like to explain up-front before we charge you an application fee?
PROSPECT:
LANDLORD: Do you use or have access to the internet? If so,
have you seen my web site description** of the rental with added details about the property? If not, do you have something to write with because I would like to give you the website address. (Pause so prospect can get something to write with). Please go to the following web site address, ___________________ prior to the rental appointment and see the amenities we make available for all new residents, so you can let me know at the appointment which amenities or upgrades you will want us to include
in your customized home rental package.
LANDLORD: I look forward to meeting you at the rental
appointment, and please remind me at that time to show you
the move-in gift we give to all new residents.
(That final sentence will double the odds the prospect will
show up for the rental appointment).
*Click here to learn how you can get an inexpensive CREDIT REPORT on every applicant.
**Click here to learn how you can have a full web page description of your rental properties on the internet for only pennies a day!!
Share your landlording or management forms with us, and if we share your form on our web site, we will give you a free six-month subscription to the MR. LANDLORD on-line version of the newsletter that will be emailed to you each month.
Send your forms to editor@mrlandlord.com.
---
| HOME | Q&A | TOOLBOX | SERVICES | EVENTS | FREE | LAWS |
| NEW VISITORS | BOOKS | RENTAL FORMS | SOFTWARE | SUPPLIES|
| CREDIT REPORTS | GIFTS | CUSTOMER SERVICE | CONTACT EDITOR |
| ABOUT US | ASSOCIATIONS |ADVERTISERS |DISCLAIMER |

Copyright (c) 1998-2018 MRLANDLORD.COM All rights reserved.
| | |
| --- | --- |
| | |
Top Ten Bestsellers
#1
Gold Club Newsletter Membership / Subscription (2 months Top Ten)
#2
MILLIONAIRE TAX STRATEGIES FOR REAL ESTATE INVESTORS (1 month Top Ten)
#3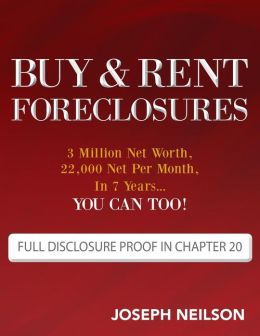 Buy and Rent Foreclosures (2 months Top Ten)
#4
MRLANDLORD.COM RENTAL FORMS (CDROM PLUS HARDCOPY) (1 month Top Ten)
#5
525 Rehab, Repair, and Maintenance + Bonus CD (2 months Top Ten)
#6
Section 8 Bible Combo Offer (2 months Top Ten)
#7
PREMIER LLC's - What Every Real Estate Investor & Entrepreneur Needs to Know! (1 month Top Ten)
#8
Landlording on Autopilot Combo Offer (2 months Top Ten)
#9
LANDLORD MARKETING SECRETS PLUS DVD (1 month Top Ten)
#10 3
Comments From Landlords:
"I first want to THANK YOU! Your site is awesome. I have learned more since I have visited your site in one or two days then I have in my whole 10 yrs. dealing with rental properties. Many, Many Thanks keep up the good work."
---
"I want to express my gratitude to all of you and others who have answered my questions from this site. This site is a blessing to us all, both to the new and the old, to the beginner and veteran, to the rich and to those who wanted to become wealthy through real estate knowledge. Most of all I want to thank Jeffrey for his creativity and insight in helping us. May we continue building our wealth by helping others. Grace and peace multiply to each and everyone of us as we harvest the wealth of the land and help others do the same thing and shelter those who are in need of rental properties."
---
"I've only been a LL for 1.5 years. I searched all the websites I could find during that time. I've learned more from this site than any other. I no longer surf the net looking for info. I come here! I'll tell ya, there are none better than Mr. LL. So to all you neophytes...don't waste your time with the others. Stick with the best. Jeffrey...my hat is off to ya!"
Dennis, VA.
---
---