CHANGE IN PROPERTY MANAGEMENT
(Sample Letter)
Date:_______________________________
To: _________________________________
_____________________________________
_____________________________________
From: _______________________________
_____________________________________
_____________________________________

The property where you live has changed ownership. We do not want you to get apprehensive, as sometimes occur when a changeover takes place. So we would like to take this opportunity to review/outline your current rental payments, your security deposit, and our rental policies.
It is our understanding that your rent is $___________ per month and that it is due on the ___________ of each month. Payments should be mailed/delivered to the following address ____________________________________________. A loss of rental discount of $___________ occurs, or a late fee of $___________ is added, to your rent payment received after the ___________ of the month. We are holding a security deposit of $___________.
We would like to schedule a mutually acceptable time to meet you and discuss if you have one important concern that needs to be addressed at this time and to advise you in detail of our rental policies. You can call us at ______________________ between ___________ and ___________. In regard to maintenance requests, whenever possible call before noon and early in the week prior to the weekend. Should you reach our answering service, leave your name, address, and nature of your request.
Enclosed are self addressed payment envelopes for your convenience. Payments should be made by check. There is a $______ fee for returned checks. We offer residents a "worry free" option of paying rent so that you never have to worry about a late charge (a bonus rental gift if given to all residents who sign up for a worry free payment plan). We will discuss and offer this option to you when we meet. We look forward to meeting you. Our calendar has the following dates and times available to meet. ______________________ or ______________________. Please call and let us know which day is better for you. Our number again is ______________________.
Sincerely,

Owner/Manager

This letter was adapted from the book, How To Get Rich In Real Estate Without Leaving Your Job, available in the Wealthbuilding section of our website catalog.
---
| HOME | Q&A | TOOLBOX | SERVICES | EVENTS | FREE | LAWS |
| NEW VISITORS | BOOKS | RENTAL FORMS | SOFTWARE | SUPPLIES|
| CREDIT REPORTS | GIFTS | CUSTOMER SERVICE | CONTACT EDITOR |
| ABOUT US | ASSOCIATIONS |ADVERTISERS |DISCLAIMER |

Copyright (c) 1998-2018 MRLANDLORD.COM All rights reserved.
| | |
| --- | --- |
| | |
Top Ten Bestsellers
#1
Gold Club Newsletter Membership / Subscription (2 months Top Ten)
#2
MILLIONAIRE TAX STRATEGIES FOR REAL ESTATE INVESTORS (1 month Top Ten)
#3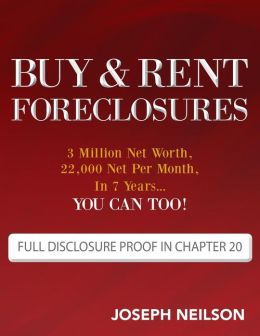 Buy and Rent Foreclosures (2 months Top Ten)
#4
MRLANDLORD.COM RENTAL FORMS (CDROM PLUS HARDCOPY) (1 month Top Ten)
#5
525 Rehab, Repair, and Maintenance + Bonus CD (2 months Top Ten)
#6
Section 8 Bible Combo Offer (2 months Top Ten)
#7
PREMIER LLC's - What Every Real Estate Investor & Entrepreneur Needs to Know! (1 month Top Ten)
#8
Landlording on Autopilot Combo Offer (2 months Top Ten)
#9
LANDLORD MARKETING SECRETS PLUS DVD (1 month Top Ten)
#10 3
Comments From Landlords:
---
"Of course there isn't another site like this one anywhere on the web. Oh there are other immitators but nothing compares to the quality of this site and always made even better by filling reqests and idea's of the viewers, such as the
---
"The Q and A is the best thing on this site and why I come back every day. The wealth of info from other landlords is massive plus I feel like there is someone out there who's been there and really cares."
Lori, NV.

---
---