Chat Room
First Time Visitors
Gold Club Members
Questions & Answers
New And Hot
Tell A Friend
Surveys & Forms
Landlord of the Month
Visitor Comments
Landlord Cruise
Weekly Tip

Free Newsletter

Rental Form

Sample Lease

Special Report

Lead Paint Pamphlet

Weekly Email Update

Landlord/Tenant Law

Win A Free Book
Mr. L. Subscription

Landlord Books

Financial Calculators

100 Rental Forms

Mgmnt. Software

Rental Application

Cash Flow Analyzer

List Your Vacancy

Landlord Bootcamp
For New Landlords

State-Specific Forms

Suppliers

Top Ten Bestsellers

Home Study Courses
Authors/Advisors

Partner With Us

Mr. L. Seminars
Tenant Credit Reports

Direct Rent Deposits

Auto Rent Drafts

Collect Bad Checks

Report Bad Resident

Tax Assistance

Judgment Collections

Property Managers
Find an Association

Free Speaker

Affiliate Program

Free Monthly Column

Free Newsletters

Improve America

Success Stories

Website Wish List
How do you get there? Click HERE. Your web browser must support Java applications, as the chat program is a Java-based chat. Best results are obtained using Windows 95 and 3.0 or higher version of IE or Netscape. You may even see Jeffrey Taylor, editor of Mr. Landlord, in the chat room!

We welcome any input you would like to suggest for future guest speakers. Also, a reminder to leaders of real estate associations: you can rent for FREE the use of our mrlandlord.com Chat Room to hold monthly meetings, sub-group meetings, board member meetings or special one-time only meetings with your members. Click here for more details about renting our CHAT ROOM for free!!.

CHAT LONG DISTANCE WITH A LANDLORD FRIEND OR AN OUT-OF-STATE COLLEAGUE or MANAGER FOR FREE!
Every Wednesday night at 9pm eastern, landlords are able to chat with other subscribers nationwide. But did you know our Landlord Chat Room is available 24 hours a day, seven days a week. You can set an appointed time to talk with a friend, colleague or manager who is in a different state and engage in a text-based chat for FREE for as long as you want. This is a public chat room, so do not discuss your most private of conversations. I utilize the Landlord Chat Room to talk with colleagues in other states. Itís great to be able to quickly communicate a couple of points to a colleague and not have to pay AT&T or MCI. You can also communicate with relatives and friends in different states or in different parts of the world. Just set a time to meet, and both of you go into the MR LANDLORD Chat Room from our web site - www.mrlandlord.com. Click on LIVE CHAT and follow the simple Instructions and talk for as long as you wish. If you need any assistance using the chat room, email a message or question to webmaster@mrlandlord.com
---
| HOME | Q&A | TOOLBOX | SERVICES | EVENTS | FREE | LAWS |
| NEW VISITORS | BOOKS | RENTAL FORMS | SOFTWARE | SUPPLIES|
| CREDIT REPORTS | GIFTS | CUSTOMER SERVICE | CONTACT EDITOR |
| ABOUT US | ASSOCIATIONS |ADVERTISERS |DISCLAIMER |

Copyright (c) 1998-2019 MRLANDLORD.COM All rights reserved.
| | |
| --- | --- |
| | |
Top Ten Bestsellers
#1
Gold Club Newsletter Membership / Subscription (2 months Top Ten)
#2
MILLIONAIRE TAX STRATEGIES FOR REAL ESTATE INVESTORS (1 month Top Ten)
#3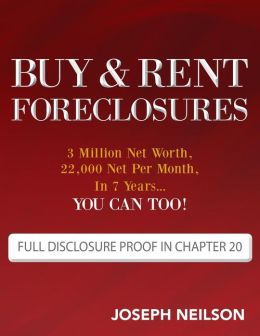 Buy and Rent Foreclosures (2 months Top Ten)
#4
MRLANDLORD.COM RENTAL FORMS (CDROM PLUS HARDCOPY) (1 month Top Ten)
#5
525 Rehab, Repair, and Maintenance + Bonus CD (2 months Top Ten)
#6
Section 8 Bible Combo Offer (2 months Top Ten)
#7
PREMIER LLC's - What Every Real Estate Investor & Entrepreneur Needs to Know! (1 month Top Ten)
#8
Landlording on Autopilot Combo Offer (2 months Top Ten)
#9
LANDLORD MARKETING SECRETS PLUS DVD (1 month Top Ten)
#10 3
Comments From Landlords:
"Jeff, I just love your free email newsletter. It is WONDERFUL!! Thank you for writing it! Strangely enough most of my friends and family do not own Real Estate investment properties so I find it hard to relate to them on this topic. Your newsletter makes me feel like I am part of the club!"
---
"My husband and I became LLs about a year ago so I'm definitely a newbie. If it weren't for this site which is full of feed back of ideas, suggestions, and advice, I really wouldn't know where to turn. I read the posts every day even if the particular post didn't apply to me because I never know if I might need it in the future. There are a few associations in my area but the LLs that I've met seem a bit closed mouth and are unwilling to share their experiences... the wealth of knowledge that is given at this site is priceless. On my behalf, I thank all the 'experienced' landlords for willing to share their experiences."
Cher, FL.
---
"Hi, my name is Joey and I am a mrlandlord.com addict. But hey, unlike other addictions, this one saves me lots of money."
Joey, NJ.
---
---